Submitted by Siteguru on Mon, 04/30/2018 - 10:19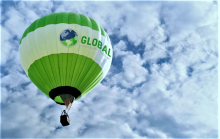 New Jobs, New Opportunities, & New Heights
As many of you know, Global Manufacturing Services experienced an incredible finish to 2017, and with favorable projections going into 2018, we added some new high-speed equipment in January of this year. The additional equipment increased our production capabilities significantly. If you missed that announcement and would like more information, here is a link, https://www.gmsww.com/blog/anticipating-great-2018.
LED Lighting!
Our growth has primarily come from LED lighting customers who provide lighting products to wholesalers, retailers, and in some cases, directly to consumers.  Our innovative and sometimes radical manufacturing processes are helping us realize our company's mission and vision. These manufacturing techniques enable us to meet the quality and output volumes required by our LED Lighting customers.
Conformal Coating!
Another service experiencing substantial growth is conformal coating. Progressively more of our electronic manufacturing projects request conformal coating, and why not. The costs are insignificant to the overall assembly costs, and the benefits far outweigh the expense. Coatings protect your electronics from environmental contamination like moisture and debris. They lessen the threat of solder and trace corrosion while simultaneously improving the board's ability to handle thermal and mechanical shock. They prolong the life of the electronics. As they say, "an ounce of prevention is worth a pound of cure."
New Team Members Join Global
We are excited to announce the addition of new manufacturing positions in our West Jefferson, NC facility. It was amazing to see the number of applicants interested in joining our team.  The end result was an increase in our production staff by nearly 25%.  We have new team members in Surface Mount Technology, Testing, Soldering, Conformal Coating department, packing, and shipping departments. Our goal is to maintain steady growth so we can continue to serve our local community by providing more opportunities for the great people of Ashe County North Carolina and the surrounding areas.  
Thank you for taking a moment to catch up on the happenings at Global Manufacturing Services.  If you have questions or comments, feel free to contact us at rfq@gmsww.com.