Submitted by Siteguru on Mon, 01/29/2018 - 15:25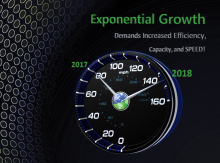 The implementation of a new growth strategy in 2017 produced pleasing results for our company. We are eagerly kicking off the new year by increasing our production capabilities to meet the growing demand. The first week of 2018 was marked by the arrival of new equipment and it is now up and running!
The latest additions to our manufacturing facility will increase our through-put capacity and speed by more than 70%. Our new equipment will further strengthen our competitive advantage of responsive quick-turn agility, while simultaneously increasing our competitiveness on higher volume production runs. The new machinery will not replace existing equipment but will be added to the complement of our diverse collection already in operation. We look forward to employing our increased speed and efficiency for the good of our current and future customers.