Submitted by Siteguru on Thu, 06/14/2018 - 14:08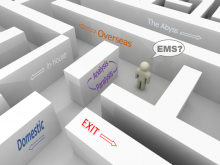 What are the most important things to consider when searching for an electronics manufacturer? The best partnerships strike a fine balance between specialized knowledge, capacity, capabilities, quality, dependability, flexibility & pricing. Most companies do their best to vet potential contract manufacturers and quite often the responsibility for research and data collection is given to a junior team member.  The process of evaluating and selecting a contract manufacturer can be a great learning experience for someone new to the process, but it can also be overwhelming.
This article provides a linear yet simple strategy for quickly evaluating potential contract manufacturers. Whether you are a veteran who could use a refresher or someone new who wants to prepare, you have come to the right place. This article can help you avoid many of the common mistakes companies make when seeking electronic manufacturing assistance.  Click here to read the full article!